Emergency Dentist
Online Prescription Service
Are you experiencing dental pain but can't secure an immediate appointment with your local dentist in Cork?

Although most dentists will do their very best to provide an early appointment to patients requiring emergency treatment, it's not always possible if their schedule is already full. In some cases it might be several days before the dentist can actually find time to see the patient. Christie Dental's anchor dentist Dr. Philip Christie is a highly experienced Dental Practitioner who understands how frustrating this can be for an individual in pain. Dr. Christie decided to try to help people who find themselves in this difficult situation with his unique online prescription service.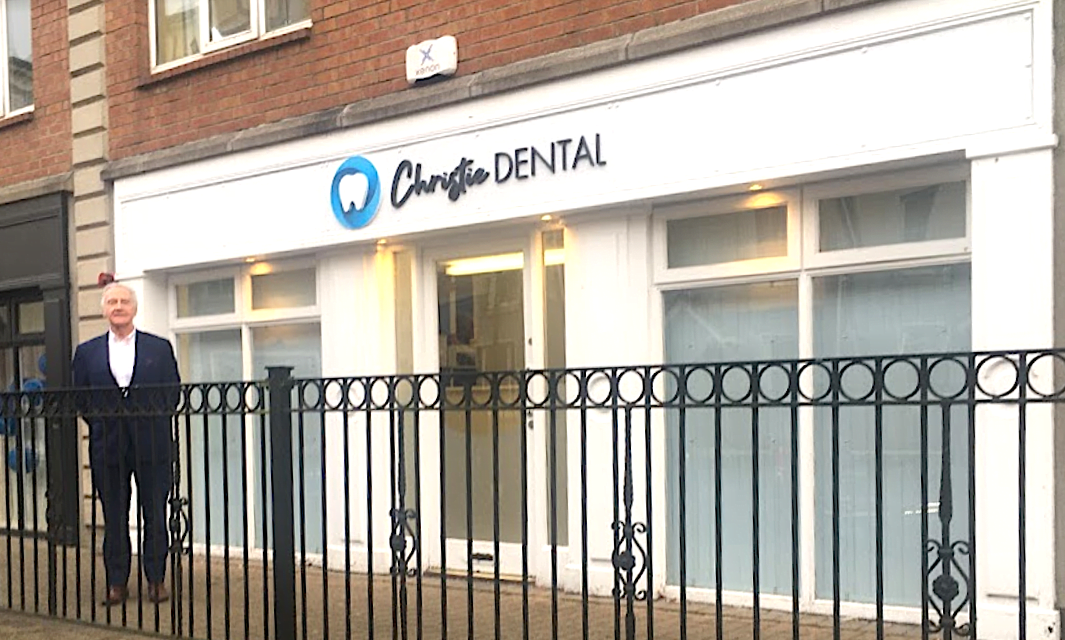 Introducing our Online Emergency Dentist Cork Prescription Service
To help alleviate the problem where a fast emergency appointment with your dentist is simply not possible, Christie Dental is now providing an Online Emergency Dentist Cork Prescription Service. This online service is now available to people in Cork (and nationwide) who need to get fast relief from dental pain while they are awaiting for a consultation with their local dentist.
Dental pain can be excruciatingly intense and distracting for sufferers, interrupting sleep patterns and preventing the ability to concentrate on work. In these types of situations, it's crucial to get relief from the pain as soon as possible. Our online service is designed to do just that giving people suffering dental pain quick access to the prescribed medication needed to treat their pain.
How Does Our Online Emergency Dentist Cork Prescription Service Work?
Our Emergency Dentist Cork Prescription Service provides a convenient way to get prescribed medicines to treat dental pain. The simplified process involves filling in an easy to complete online questionnaire, where you'll be asked to provide information about your symptoms, medical history and any medication you're currently taking. Based on the information you provide, the dentist can prescribe appropriate medication suitable for you.
Our hassle-free service allows you to get fast relief from dental pain from the comfort of your own home! All you need to do is follow these 3 easy steps:
Step 1: Fill in the online consultation form on this page
We gather as much information as possible via our questionnaire form below from you. This will provide us with important information regarding the signs and symptoms that you are experiencing. The form will ask you some questions about your dental pain, details regarding any previous medical history plus information as to what medication you may be currently taking. This information helps the dentist understand your unique situation and enables the dentist to custom prescribe the most suitable medication for your pain and/or infection.
Step 2: Complete payment
After you complete the short questionnaire, you will be prompted to make the €50 payment. You can choose to pay by Credit Card or via PayPal. This €50 fee covers the cost of the evaluation of your details you have provided by an experienced dentist and the issue of an appropriate prescription which is digitally sent to your local pharmacy.
Step 3: Collect your medication

After the prescription has been sent to your local pharmacist, you can then collect your medication from the pharmacy.
What type of medication is prescribed through our Online Prescription Service?
The type of medication the dentist prescribes will very much depend on your unique circumstances. Our dentist will carefully evaluate the symptoms of your pain, factoring in any previous medical history before prescribing. Types of prescribed medicines typically include painkillers, antibiotics, and anti-inflammatories. Our dentist will decide on the most appropriate medication to help relieve your pain and discomfort.
Please note that this emergency service is only intended as an interim solution to get suitably prescribed medication to relieve your pain while you wait for an available appointment with your dentist. It is NOT a substitute for a dental appointment with your dentist. We strongly recommend that you book an appointment with your local dentist as soon as possible who can treat the underlying cause of your dental pain.
"Life changing! Philip and Ruth are like sculptors who transformed my smile in an afternoon. My crooked teeth, that had embarrassed me my whole life, were remodelled into a beautiful smile. For the first time I feel free to smile widely in photos. Amazing!"
"Doctor Philip is a very competent dentist who took time to listen to all my dental worries and answered all my questions.He gave me very good dental advice and was a very nice man to talk to.Both he and his assistant were very kind and friendly which was very much appreciated.I highly recommend this dental practice."
"I can't say enough about this practice, Philip and Ruth so friendly and professional and great service they provide from first meeting to your treatment plan , and great if have dental anxiety."
"I would highly recommend Philip Christie I'm very nervous when it comes to Dentists but my experience with him was great no pain and he's an absolute gentleman."
"Extremely skilled dentist, very pleasant experience, and salvaged an important tooth for me.Very nice assistant also. Would highly recommend. Much appreciated"
"The best dentist I have ever been to. Dr Philip is so competent and really makes you feel at ease. Also a lovely man to talk to. Would highly recommend this lovely dental practice."
"A gentleman, would highly recommend. Very professional & courteous to people with their individual needs."
Complete the Online Prescription Questionnaire Below
Cost: €50
IMPORTANT NOTICE:
As is the case with any prescribed medication, if you experience any unusual, unwanted effects or side effect, stop taking the medication immediately and contact your dentist or doctor for advice